Food stamp usage is at an all time high in this country. How can that be when we as a nation spend more and more every year on 'combating' poverty? The truth is not that we (the Federal Government) as a nation are really trying to help improve the lives of people in poverty by assisting them to "get out" of their situation we are trying to put more people into poverty. Any reasonable thinking person would say that is crazy!
You have to understand the liberal mindset (which is now a Communist/Socialist mindset) is that despite what they say publicly they 'want' more poor people because it increases their voter base. The other day on Sirus radio I heard Tom Sullivan talking about how the Federal Government is spending about one million dollars a month on TV and radio ads promoting people to sign up for food stamps. Amazing! He even played some of the spots and they would make you sick to hear them.
Government wants more people on food stamps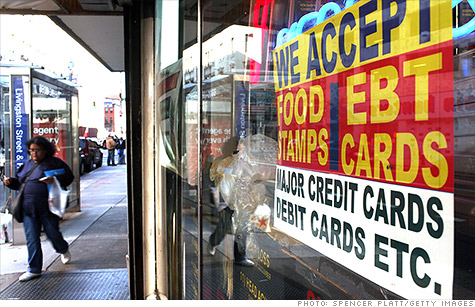 The federal government is running radio ads to boost enrollment in food stamps.
NEW YORK (CNNMoney) -- More than one in seven Americans are on food stamps, but the federal government wants even more people to sign up for the safety net program.

The U.S. Department of Agriculture has been running radio ads for the past four months encouraging those eligible to enroll. The campaign is targeted at the elderly, working poor, the unemployed and Hispanics.